And we are back to South Africa. 7 months after we left the Cape of Good Hope, the austral winter turbulences are now calming down and it is at the far East side of the country that we land this time. Richards Bay.
We arrive at dawn, exhausted by the past 24 hours spent gaining every nautical mile possible, tacking in the agulhas current. There was only ten hours left before the next low pressure would have hits us. Ouf. The port control indicates the international pontoun, a transit zone for sailing yachts waiting on weather to be favorable. A large concrete dock, between the tuck boats and the waterfront where the South African tourists come for a family walk and oder huge meat portions in the restaurants.
La Julianne is only just moored at the quay that neighbour sailors come to welcome us, offer their help and congratulate our arrival when they see the shadows we have under our eyes. People help eachother here, we can feel it. The weather conditions might have something to do with it.
For the second time since our departure we sail West with the big majority of around the world sailors. But this time, these families, friends, single-handed sailors almost closed the loop and have plenty of exciting stories to tell. With them, we dream of the paradise islands of the Pacific ocean and shiver at the most merciless damages at sea. But what we crave even more are these profiles, so different, so rich, these combinations of circumstances and these choices on purpose or not that brought these people to become modern times adventurers. Each and every has its own view of navigation, risk aversion and quest through adventure. Some have a challenge to take up, others want to witness the wonders of this planet while they can but they are all here to encounter others and learn from life.
Moea, Sophie et Réza. France.
Nurses with crazy Do It Yourself tendency, the family lives for 9 years now on the beautiful Indian Ocean. They trow Castel'O anchor in a new harbour every time, either to work or to discover its wonders. The joyful family is now heading towards the Atlantic Ocean for the first time… a brand new world is ahead of them.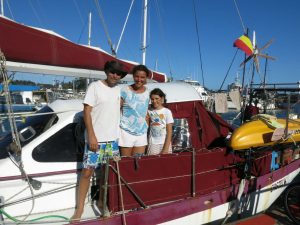 Jackie et David. Great Britain.
They perfectly emphasis the english "smart attitude". They are actually every inch British and chose a preretirment plan to make Jackster, an elegant Amel 54, their moving house. For 9 years on the sun motorway, they are not considering to put a step on land again.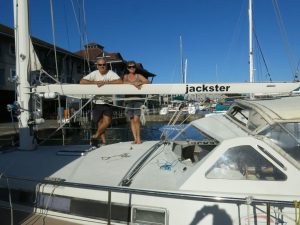 Natacha et Dimitri. Russia.
From Siberia originally, they have a step in Dominican Republic for a long time now. Although entirely tropicalised now, their origins don't go unnoticed when it's time to cook a Russian speciality. The fish dumplings are outstanding!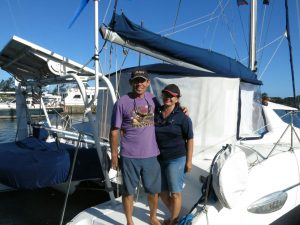 John. USA.
Ex "Marines" from Virginia, John sails single-handed for 1 and a half year now. It is by breaking 4 shrouds on his beautiful 50 feet, 3/4 time, Est of Madagascar that he was forced to stop in Richards Bay to replace the whole rigging. This misfortune actually made him meet a crew member that will join him all the way back to America.

Jean-François et Patrick. Réunion.
Two friends from La Réunion undertook to convey Gemsbok toward South of France. A long crossing which will be longer than 10 000 nautical miles total. We share together same vision of adventure and new people meeting. We could easily forget that those two young sailors went through their 60th birthdays already. Inspiring!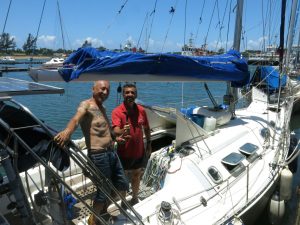 Facebook Comments